MARINA GARDENS BOUTIQUE & SUITES
IN THE HEART OF THE TEATINA COAST
two steps from the sea
Located in a private secular garden, Marina Gardens is the result of an architectural project by Studio Sablone of Pescara and the Swiss architect Roberto Carella.
The pure architectural lines of the structure, as well as the neutrality of its materials such as stone, aluminum, glass and oak parquet, fit perfectly into a green setting.
The lobby and the rooms of each suite create the perfect atmosphere to enjoy this oasis of tranquility, two steps from the sea.
Do you know why Abruzzo is called the "Green Region of Europe"?
It is the region with the highest concentration of parks and protected areas in Italy. In fact, there are almost three national parks, one regional park, one marine protected area and more than thirty nature reserves. Almost 40% of the territory is under protection and there are 75% of the animal and plant species of the entire European continent. Numbers that make Abruzzo the largest nature area in Europe. Savor its slow-paced roads, enjoy its delicious traditional cuisine and lose yourself in the endless parks of this timeless region.
Stay
Useful information
.
17 Suites with kitchen area
From 2 to 4 people

Smart Checking System
Door opening by code


Location
200m from the sea, a short walk from the bike path

Breakfast
Included in the price

Private parking
Electric car charging stations

Beds
"Night Flou" Bed System
More than a stay !
Francavilla al Mare gets cool and comtemporary!
Minimalist, modern and eye-catching, the suites and common areas are pervaded with contemporary artwork displayed in permanent or temporary exhibitions. Each space tells a story.
Our digital solution offers you a touchless and keyless experience. Forget about time-consuming check-ins and check-outs.
Immerse yourself in an oasis of artistic inspiration in Abruzzo, a place suspended between sea and mountains, hills and vineyards, art and history.
Children and infants are welcome
Make your stay a moment of inspiration, live in the rhythm of the seasons by choosing one of our suggestions. Abruzzo is a land to be discovered, from top to bottom.
Sun and sea from May to September
By boat along the Costa dei Trabocchi
Discover the charm of the hidden coves of the Adriatic coast: from the Ripari di Giobbe Nature Reserve to Punta dell'Acqua Bella.
The heart of Abruzzo 365 days a year.
La Majella 30 minutes from the Adriatic Sea.
Activities fo adults and children, beginners or thrill-seekers.
The fabulous bike path of Costa dei Trabocchi just 1 minute from us!
The journey through the flavors of the land of Abruzzo, from agro-pastoral cuisine to the finest culinary preparations, from fine Extra Virgin Olive Oil to local wine Montepulciano d'Abruzzo.
Food & wine tour: Among wineries, oils mills, farms and dairies

Nature & Discovery: From the Trabocchi Coast to the peaks of Majella and Gran Sasso, from the Ripari di Giobbe Reserve to Abruzzo National Park.

Sports & Wellness: From the Costa dei Trabocchi bike path to the Passolanciano ski facilities. Horseback riding, golf and more!

History: Among the most beautiful villages in Abruzzo, Santo Stefano di Sessanio, Scanno, Sulmona, Caramanico Terme…

Arts & Culture: Museum of the 1800s, Alba Fucens Amphitheater, Imago Museum and historical reenactments.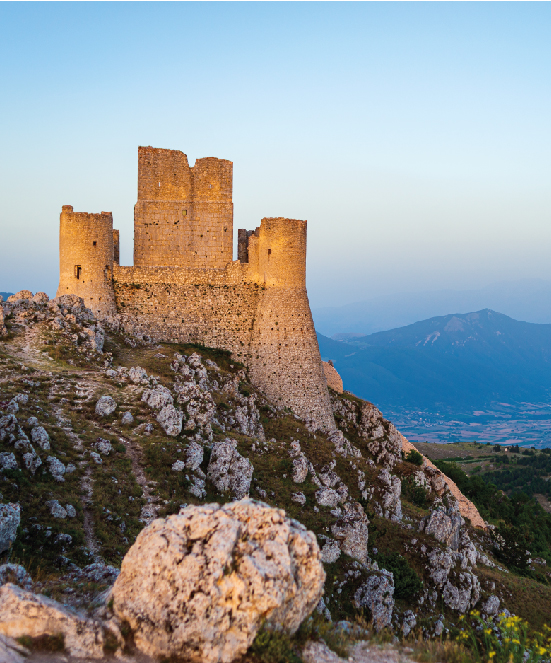 By car: A14 freeway exit Pescara Sud-Francavilla al Mare. 4 Km
Roma: 200 Km –> 2h
Bari: 240 Km –> 2.40h
Napoli: 250 Km –> 3h
Bologna: 375 Km –> 3.50h
By plane: Abruzzo International Airport 10 km away
By train
Francavilla al Mare station 2 Km away
Pescara Centrale station 10 Km away
Parking and Services
Indoor parking (subject to availability)
Two electric charging stations
Videosurveillance
Digital
Free high speed WiFi
Smart TV
Smart Checking System : Check-in from 2p.m | Check-out by 10a.m
Kitchen area
Fridge
Induction cooker
Dishwasher (Deluxe Suite)
Coffee machine
Boiler
Table for 4 people
Breakfast in the room or lobby
Daily cleaning
Premium linens
Services on request:
Bicycle rental
Use of the Kitchen area
Smoke-free spaces
We enforce a strict somke-free policy within Marina Gardens.
Cleaning
Our cleaning teams are professional, trained and supervised. They follow strict safety and disinfection protocols.